If you're looking for the very latest in hair fashion, you'll always find it in the new simple short hair cuts for ladies! Short hair is where talented hairstyle designer do their most experimental looks. And not only experimental styles, but also the most flattering, easy-care styles, too! So come on in and see how you can update and improve your beauty look with a new, simple short hair cut!
1. Curly top with short straight back & sides – simple short hair cuts for ladies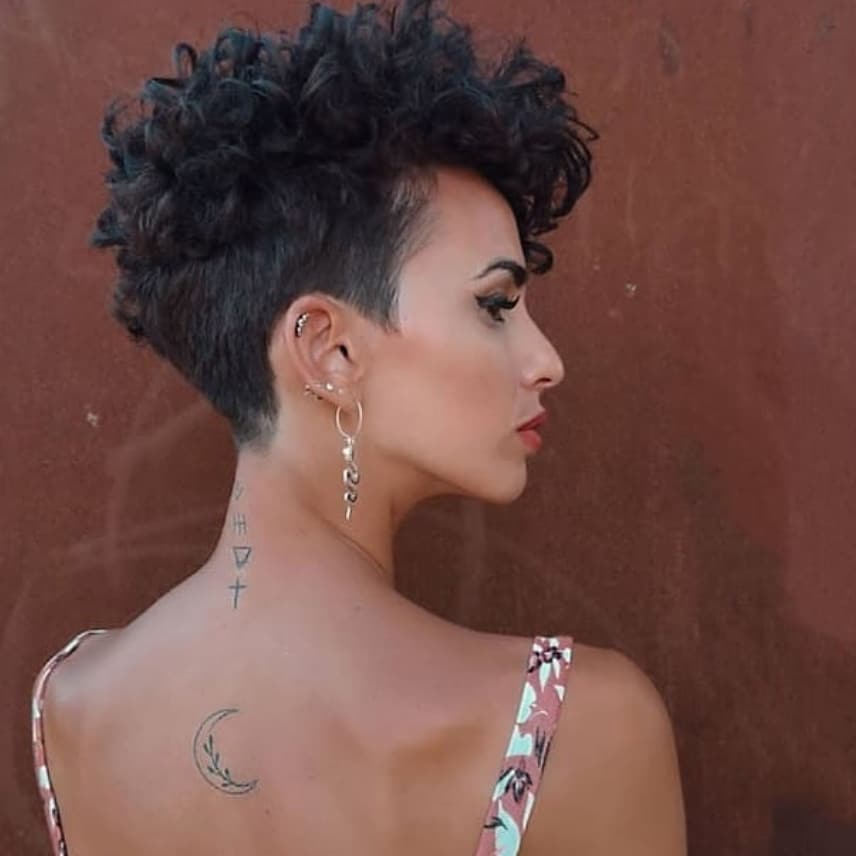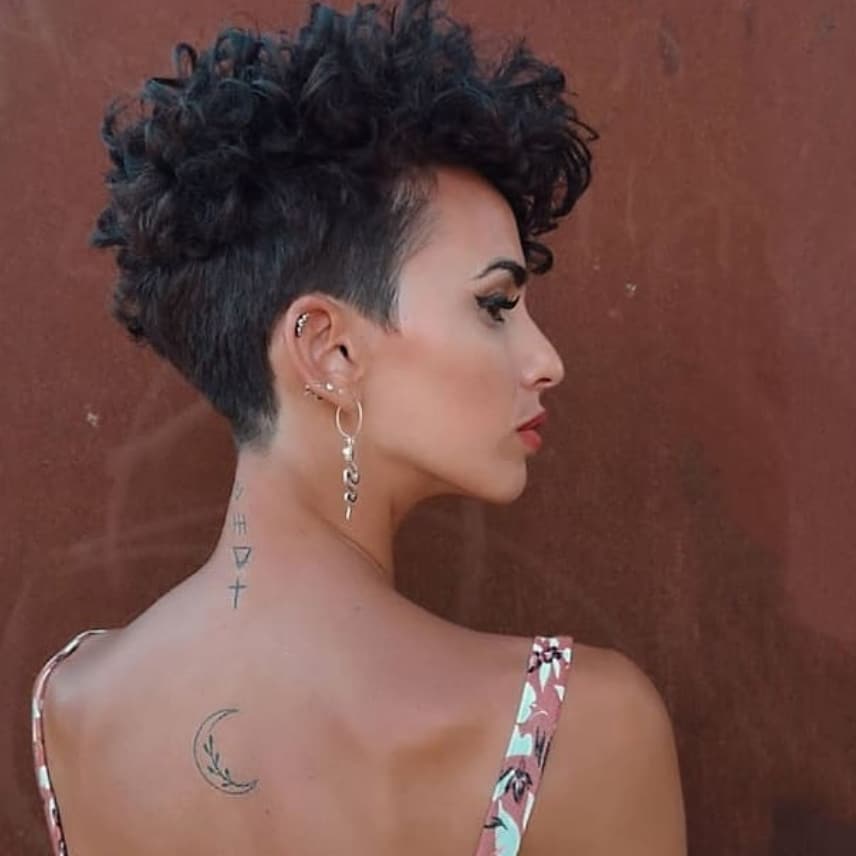 This classic short haircut comes back into fashion with extreme regularity. And that's because it's a glamorous and easy-care look! If your hair isn't naturally curly, just get a curly, half-head perm, which works well with this look. There's lots of height and volume here, with a feminine half-head faux-hawk vibe!
2. Clean cut asymmetrical pixie with side-swept long fringe – simple short hair cuts for ladies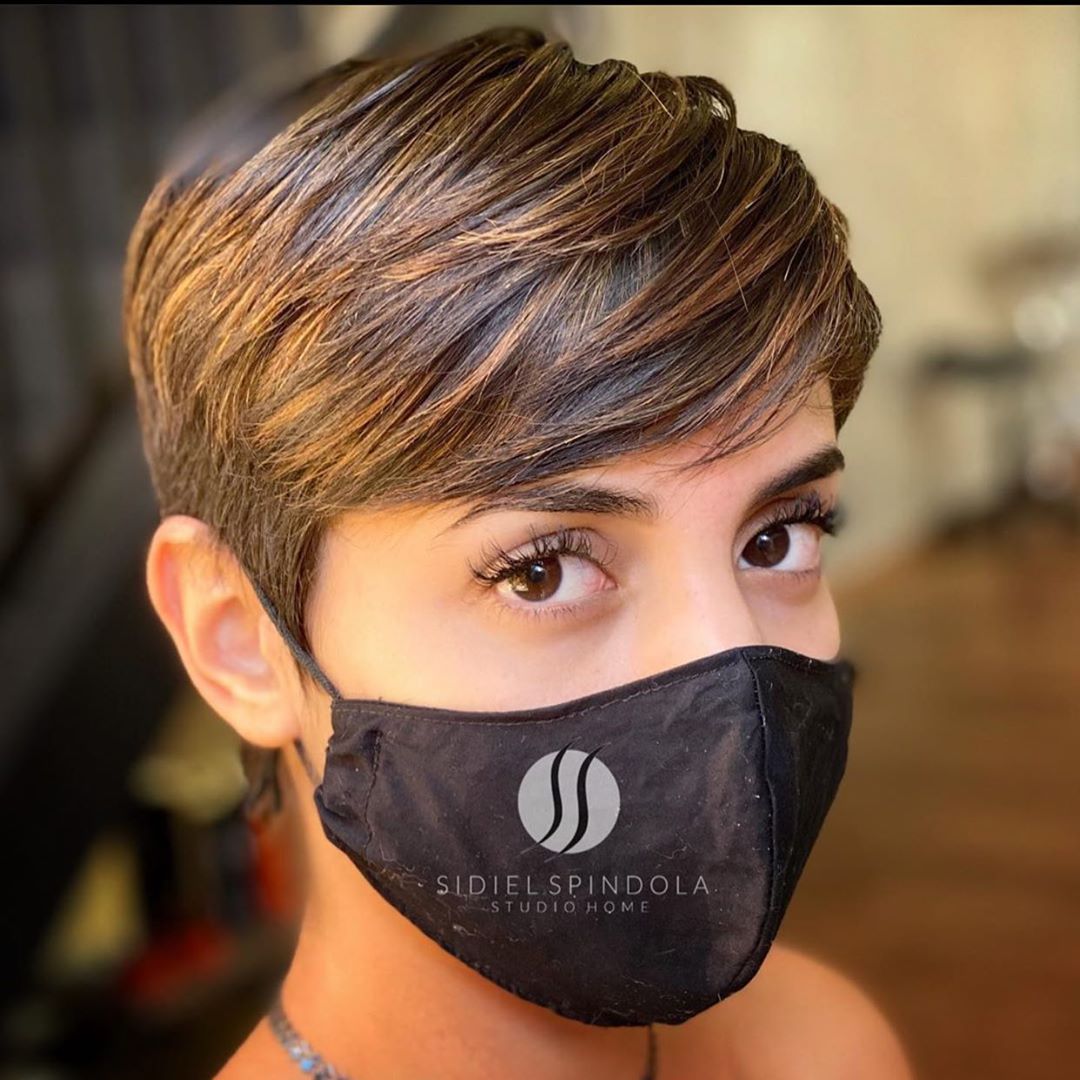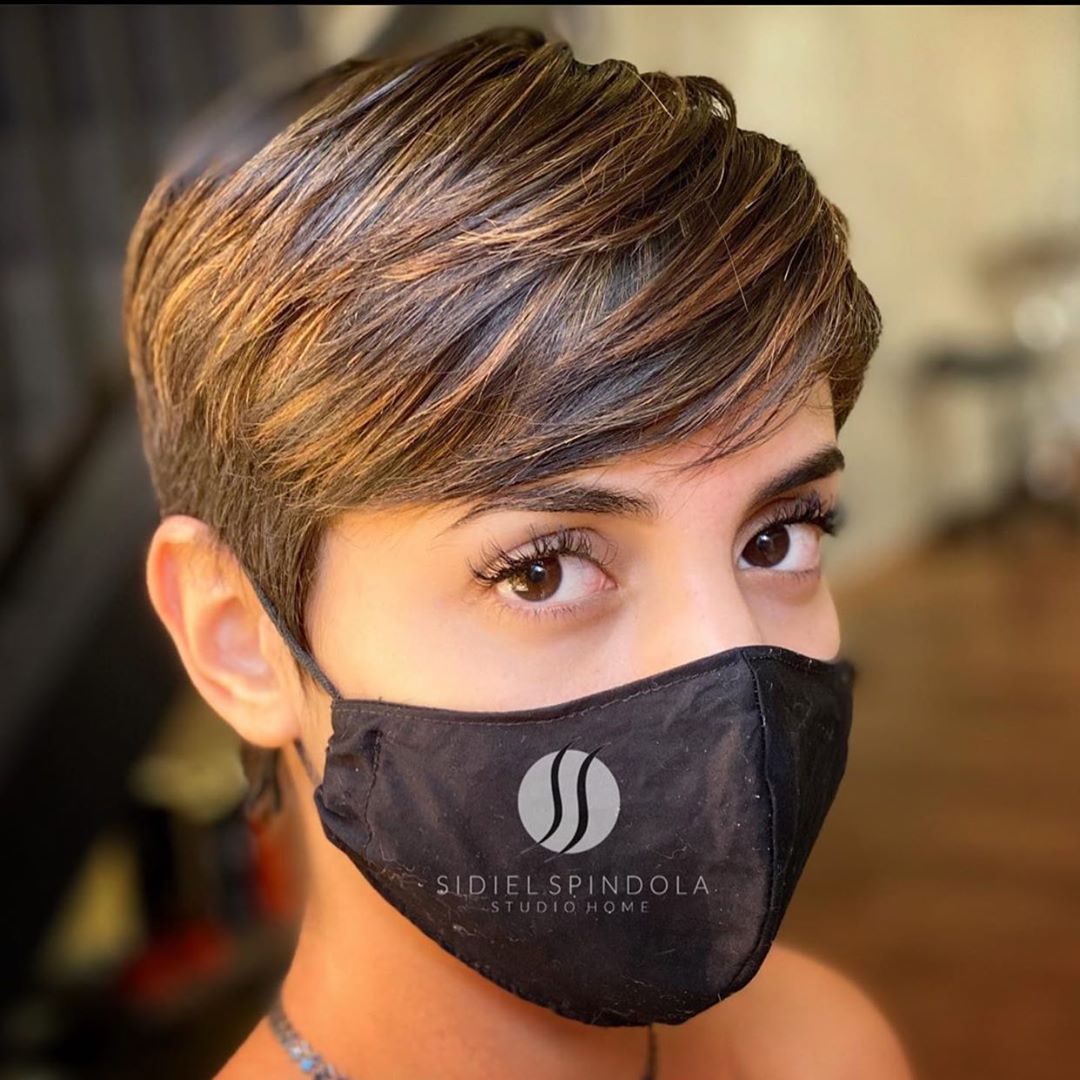 And this is another classic cut, brought right up to date with fabulous, fine copper highlights. You can see how much more interest and personality you can get on simple brunette short cuts with highlights. I love how the highlights accentuate movement in the lovely side-swept fringe and add texture. Light copper-beige is highly fashionable shade of copper-blonde this season. And it lightens hair in a very attractive, natural way!
3. All-over edgy white-blonde pixie cut – simple short hair cuts for ladies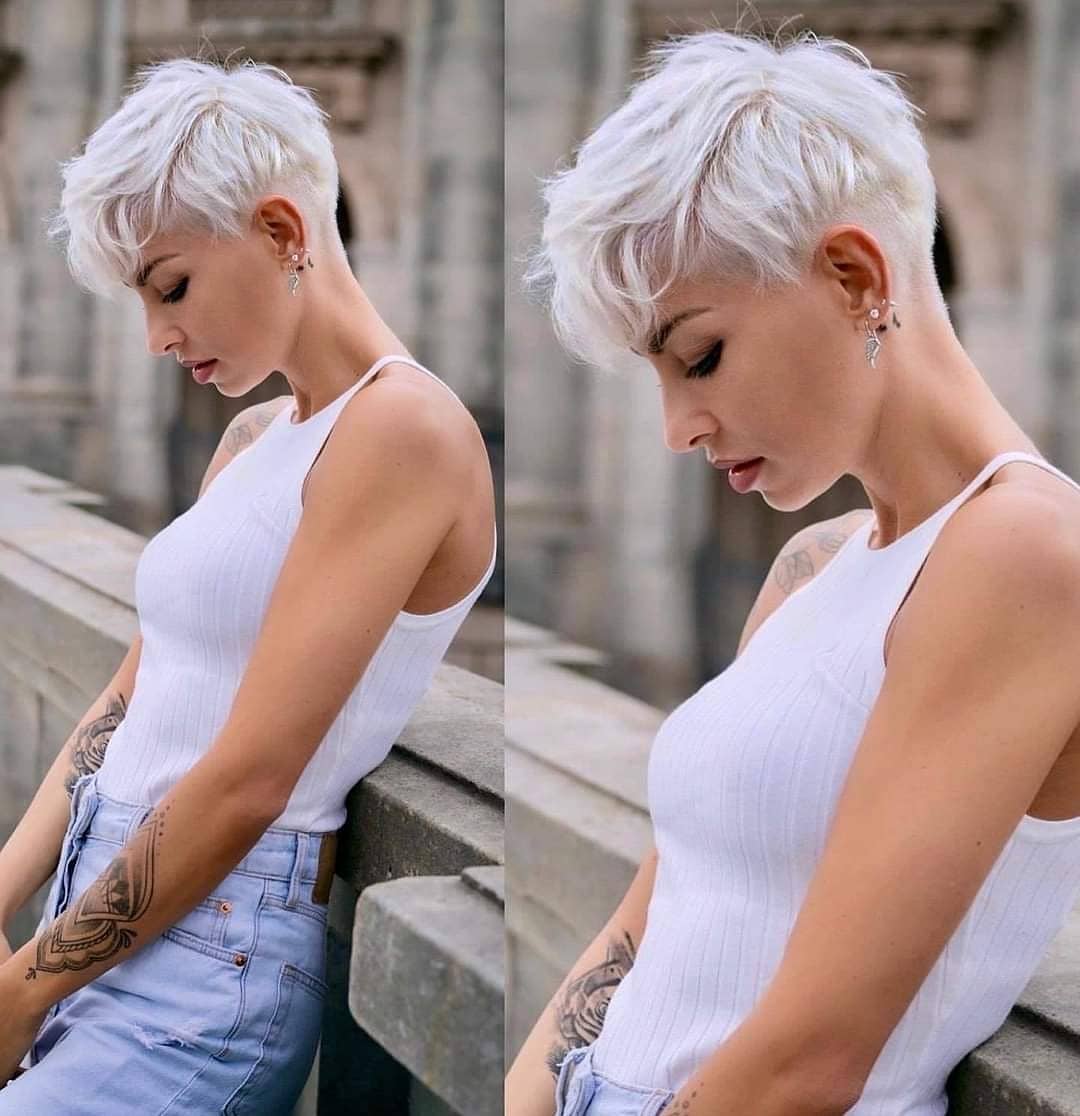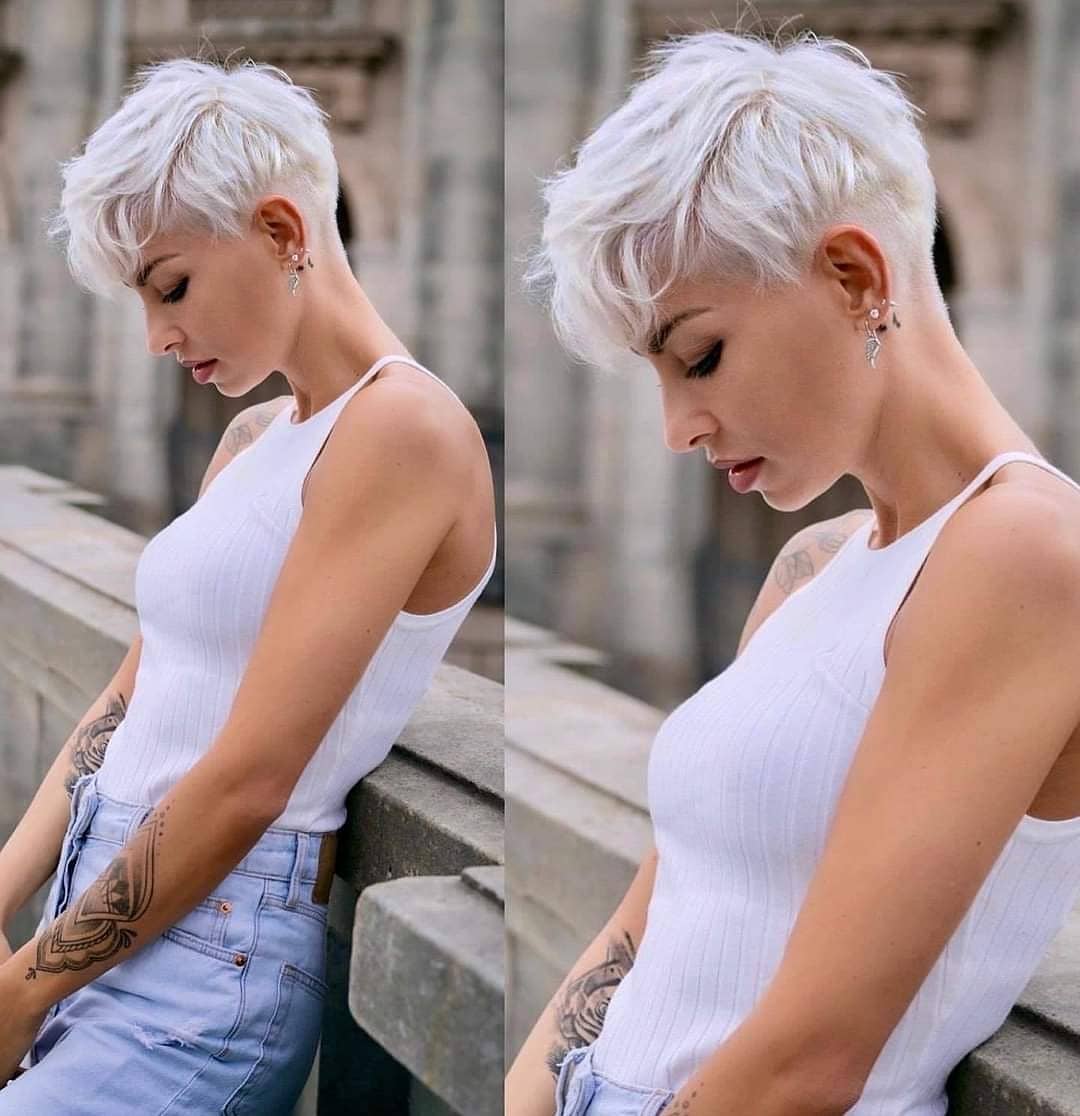 With a buzzed short back and sides, this pixie haircut is easy to style and maintain. All you need to style is the longer top, which is styled forwards to create a long, full fringe. White-blonde suits women with cool or neutral undertones to their skin. And although this is a young look on this youthful model, it's a style that also looks trendy and attractive on elders with naturally white hair.
4. Forward styled ash-blonde bowl-cut – simple short hair cuts for ladies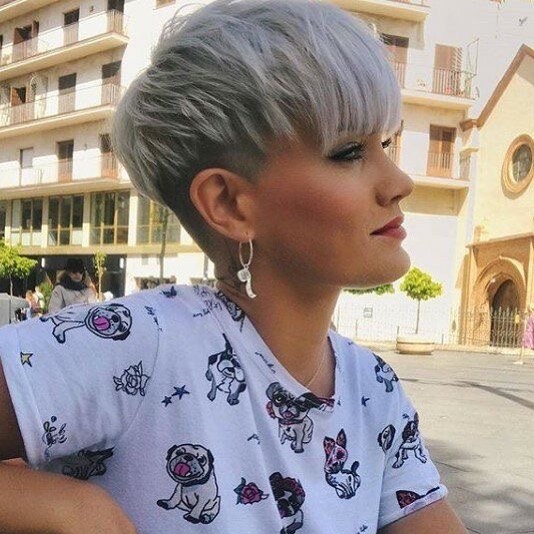 And now for the latest update on the traditional bowl-cut, which the colorist has brought right up-to-the-minute with a trendy color. This cool ash-blonde shade is good for skin with cool or neutral undertones. And styled forwards with full bangs to eye-lash length creates a super, contemporary twist. With buzzed sides and back, and simple styling this chic and playful look is actually great for women of all ages!
5. Bland blonde long to short makeover to edgy asymmetric bob with black/white color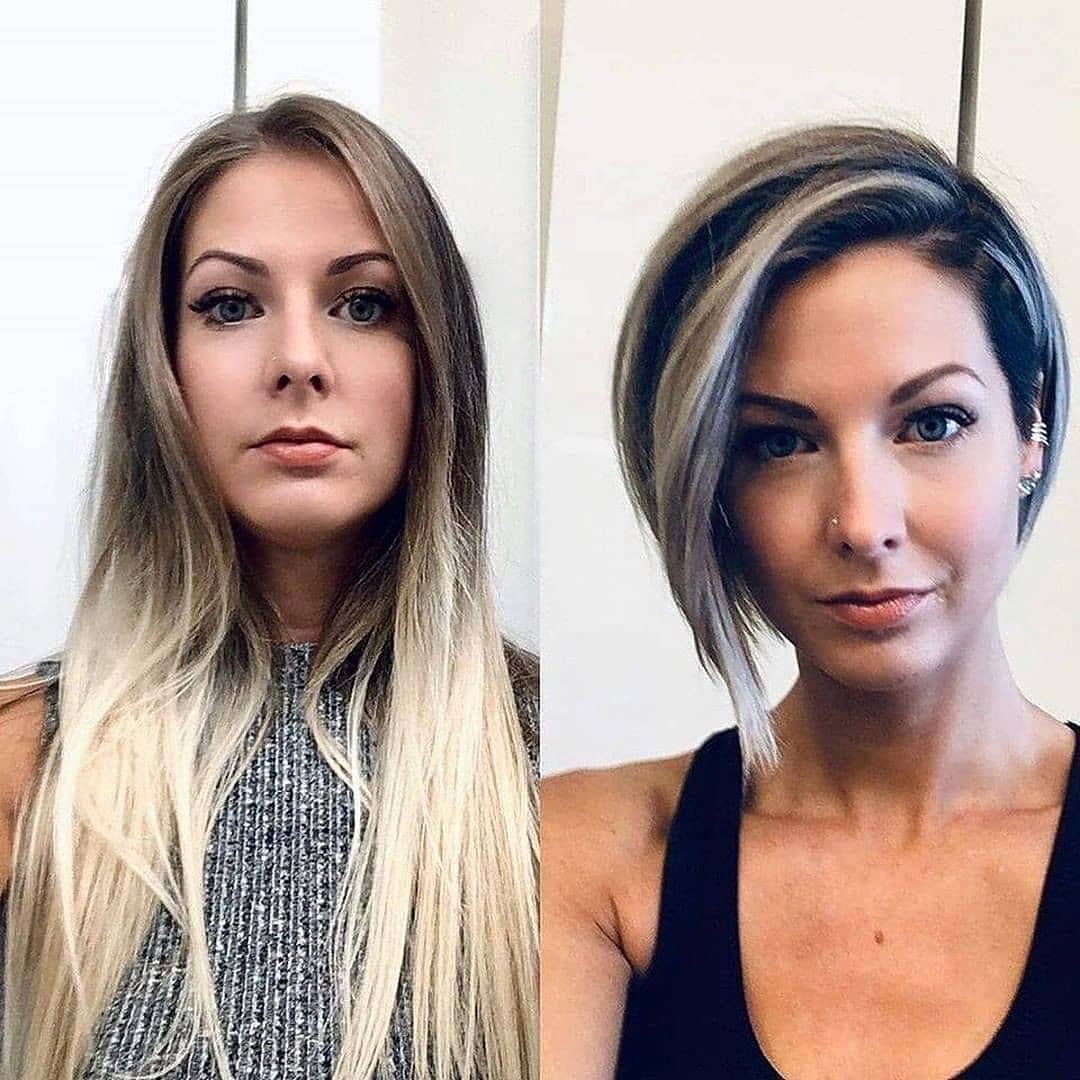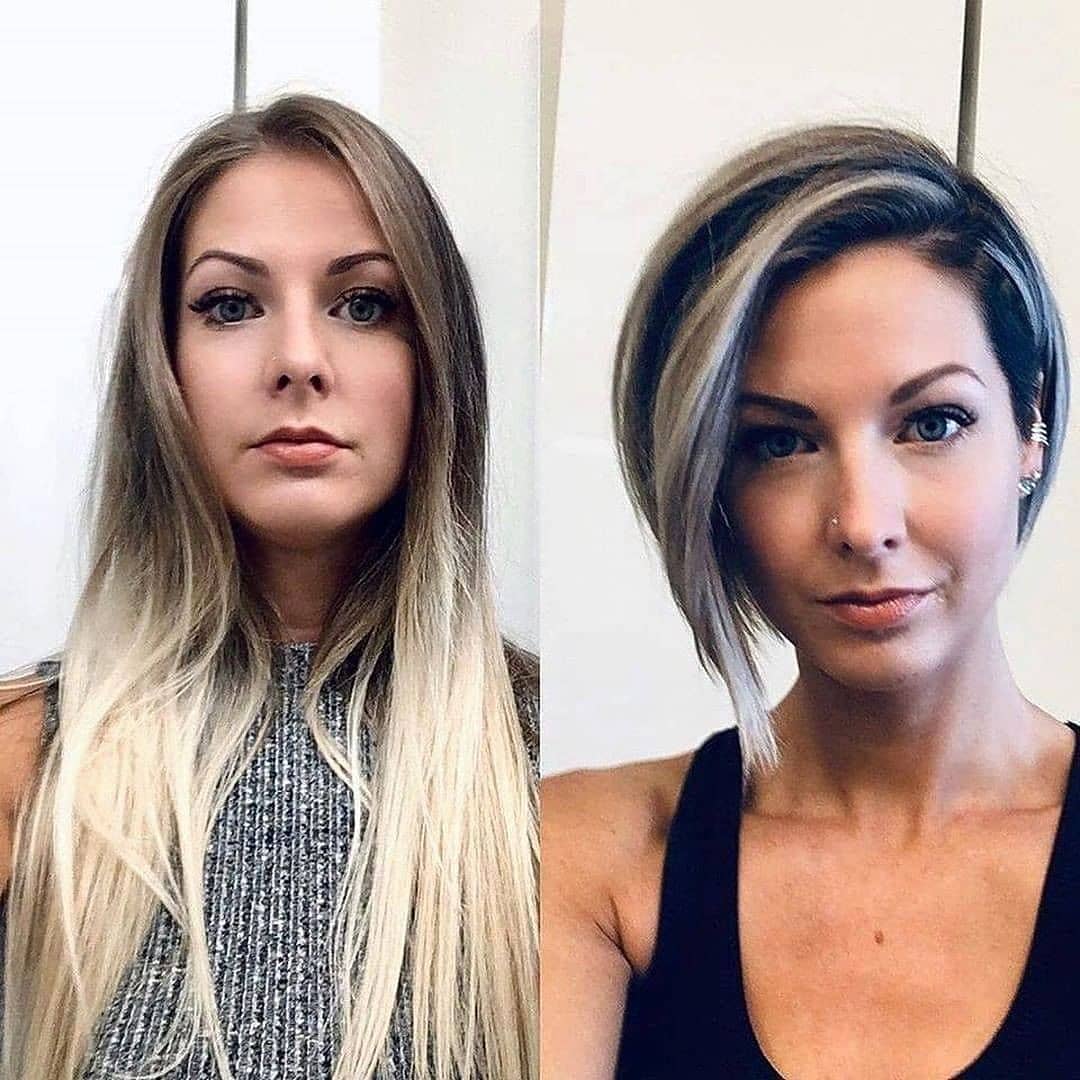 Change your image from bland to edgy and gain a new, confident personality, too! This fabulous makeover has changed the model from a cute girl to a woman who knows what she wants from life. The deep side-part is more interesting and shows off more of her face, rather than hiding it. And the dark brown-black color with dual balayage is dramatic and daring!
6. Chic beige-gray blonde asymmetrical geometric bob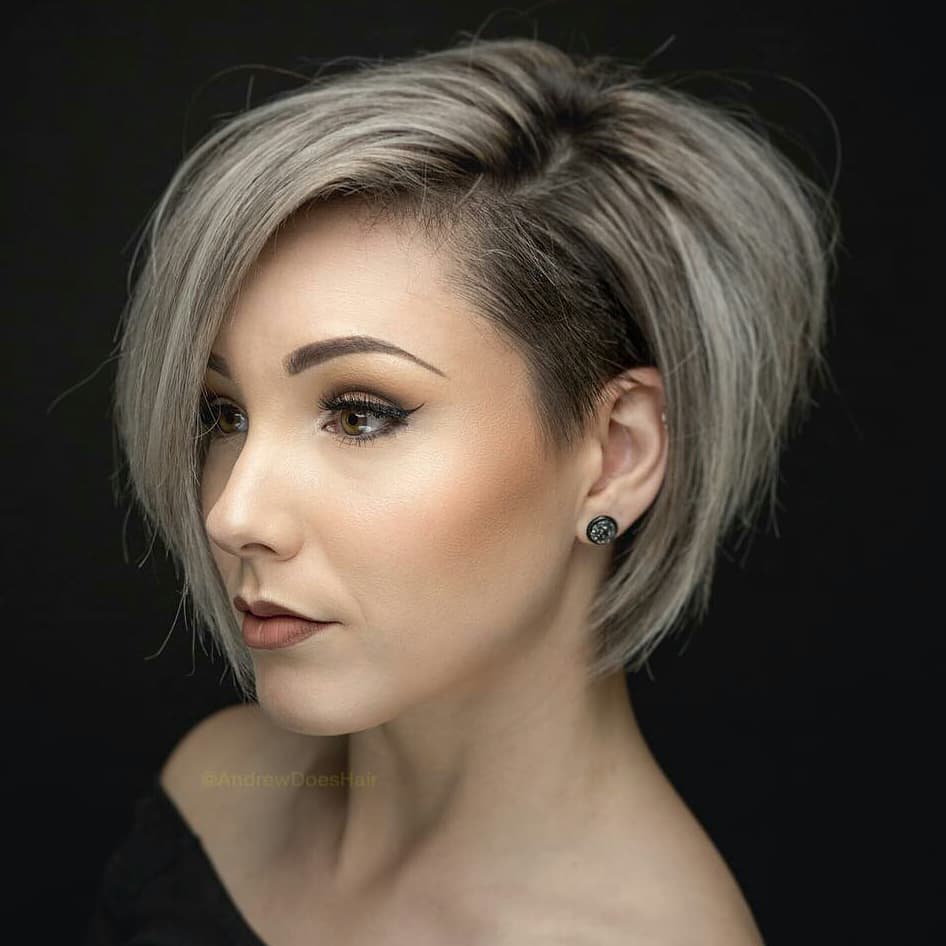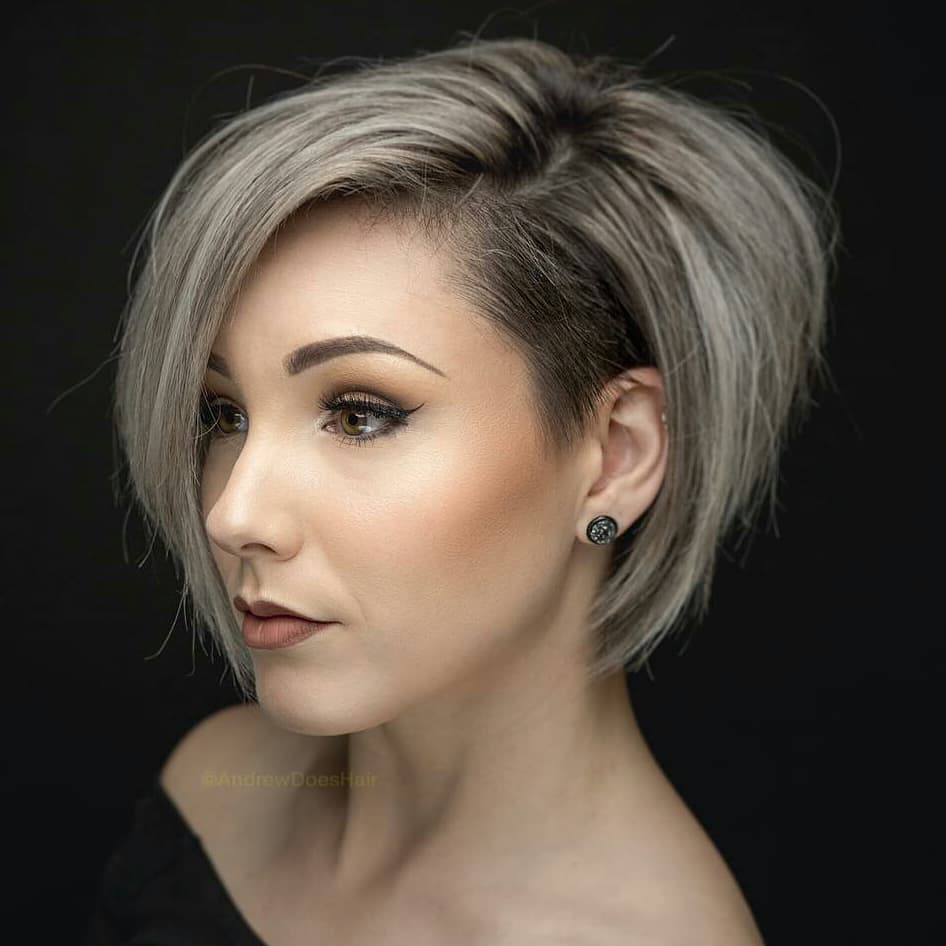 This chic, geometrical bob has changed the model's naturally dark neutral hair to blonde in a very clever way. Instead of going for an everyday golden blonde shade, this unusual medium gray makes a fabulous style statement! There's a slight undercut on the shorter side of this asymmetrical bob, which creates a cute, brunette side point.
7. Silver & purple blonde angled bob hairstyle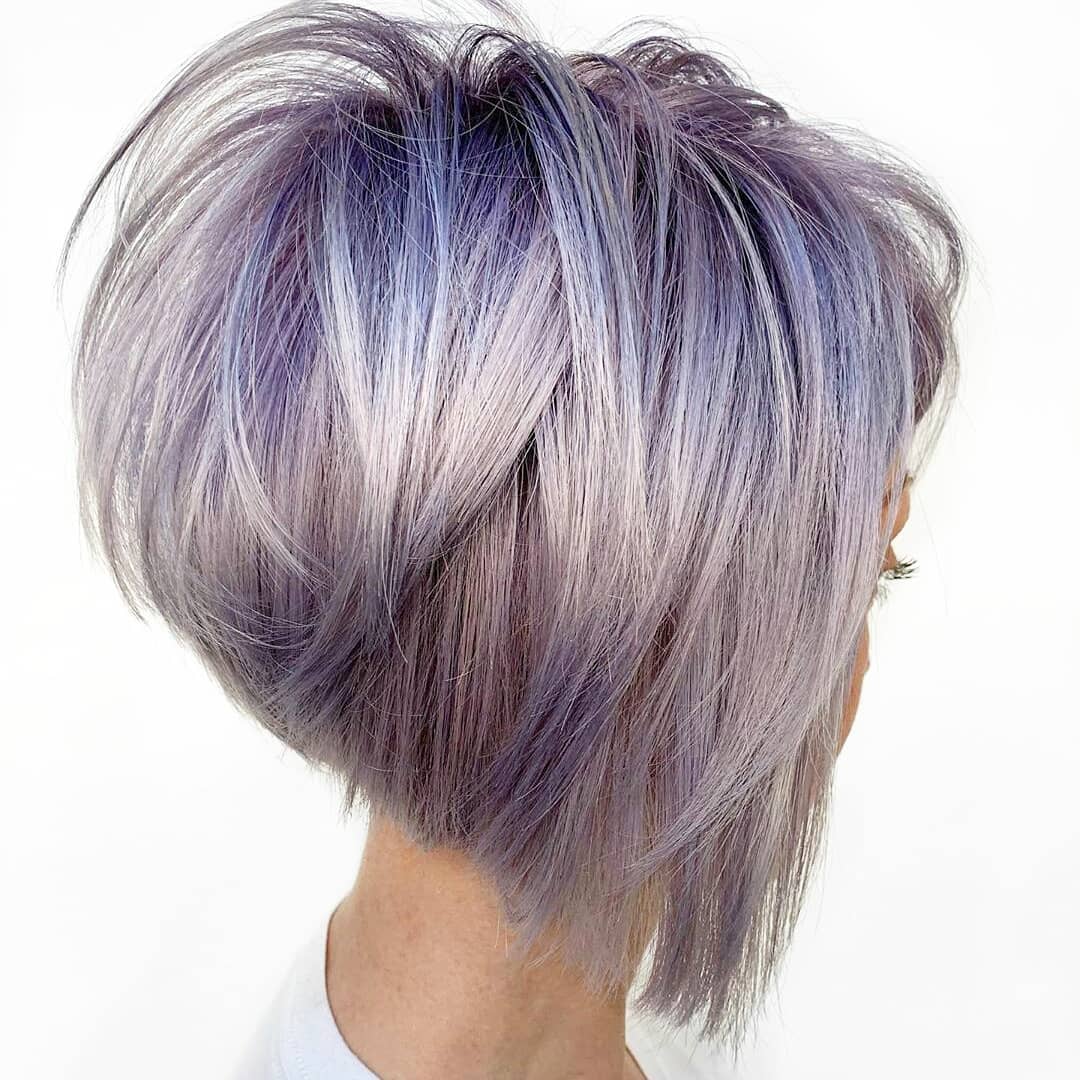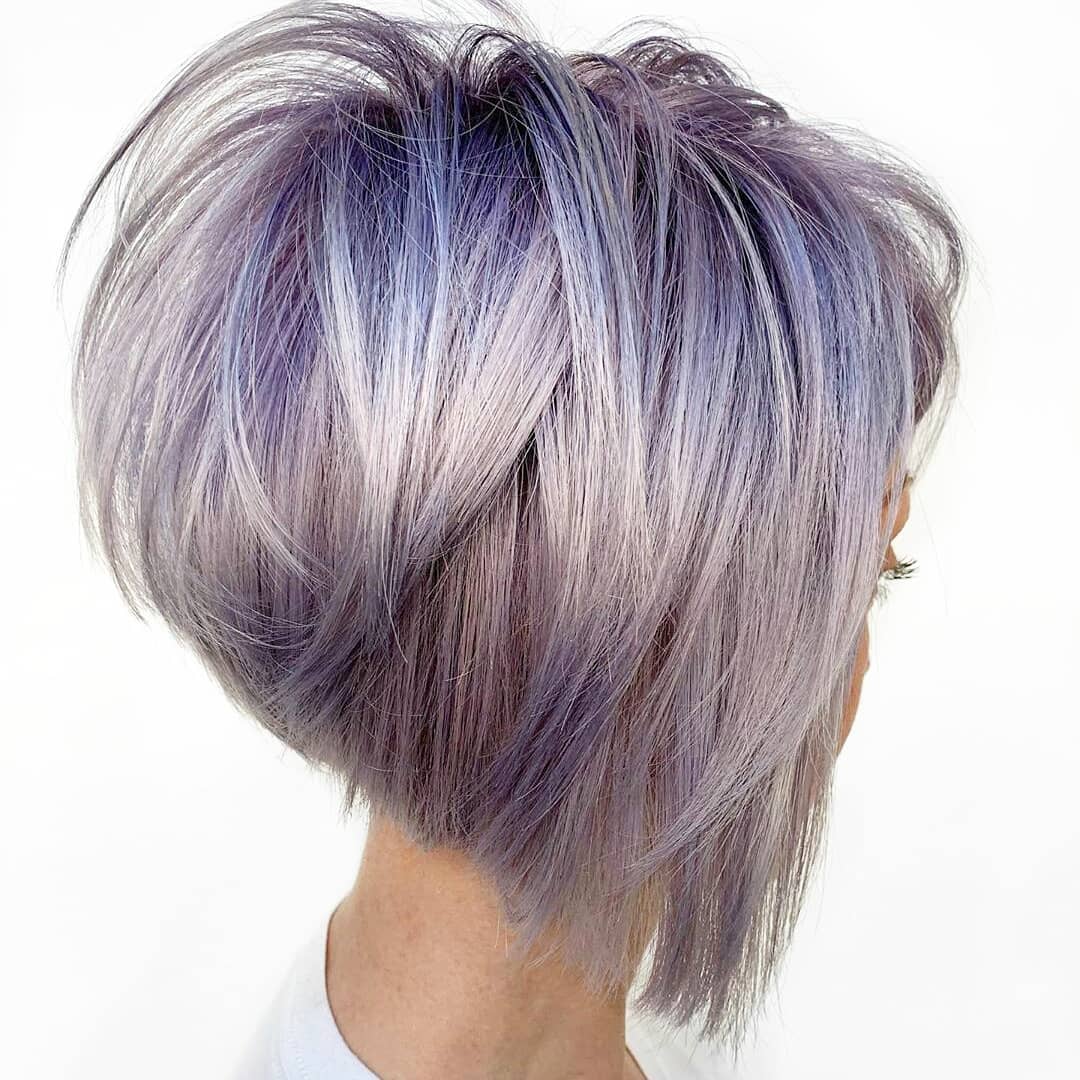 However, if you love the asymmetric short bob, but prefer a little more color – try this pretty silver-purple blonde! The top has gorgeous purple balayage, which transitions beautifully down to ash-blonde with eye-catching, silver balayage. The slanted shape creates a lovely sounded back and fabulous profile.
8. Short black bob with tousled finish for thick hair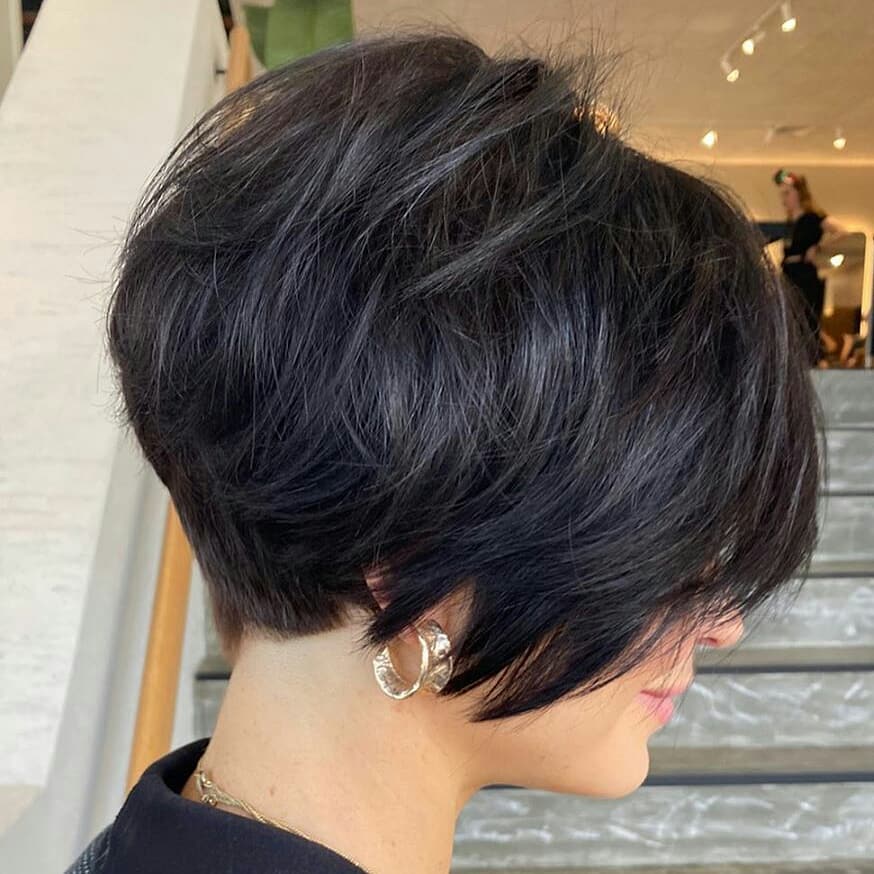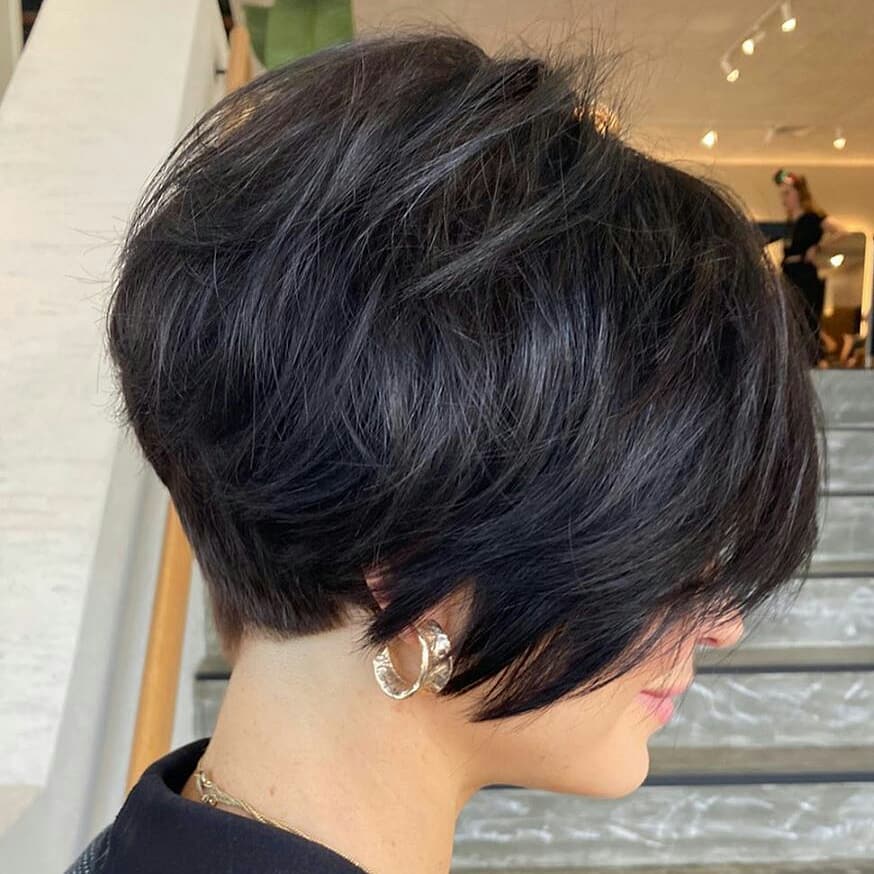 If you think your hair is too dark for blonde balayage, look more closely at this lovely black short bob haircut. The clever colorist has placed a few very fine, white-blonde balayage highlights on the side and around the crown. And the purpose of this technique is to add the illusion of more shine to hair, because it looks as if light is being reflected off the hair! Clever stuff, eh!
9. Straight short bob with even ends and center part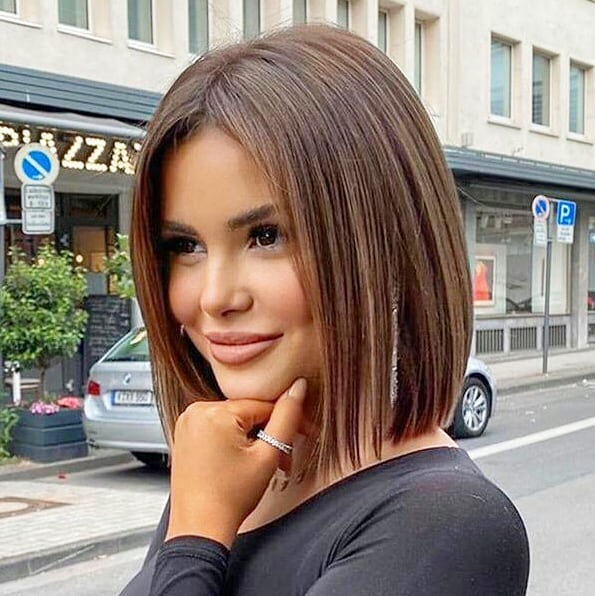 This is a lovely minimilist style that frames a pretty face perfectly. Oval faces don't need specially shaped haircuts to balance them out, as oval is the most attractive face shape. So you can stick with a short, simple haircut, with a center part and know you'll always look great. This lovely warm, light brown shade has subtle, vertical blonde highlights to add movement and texture!
10. Messy white-blonde asymmetric bob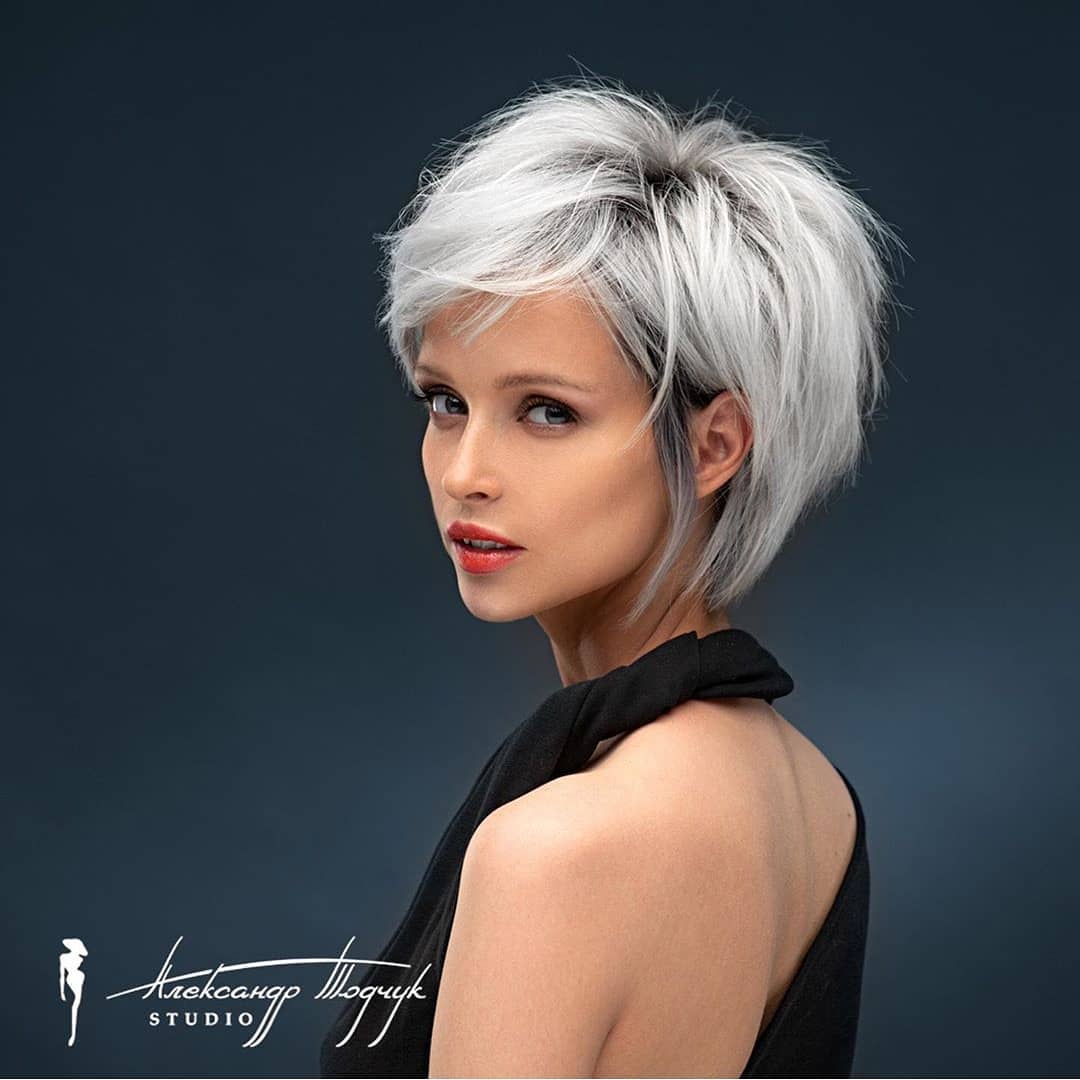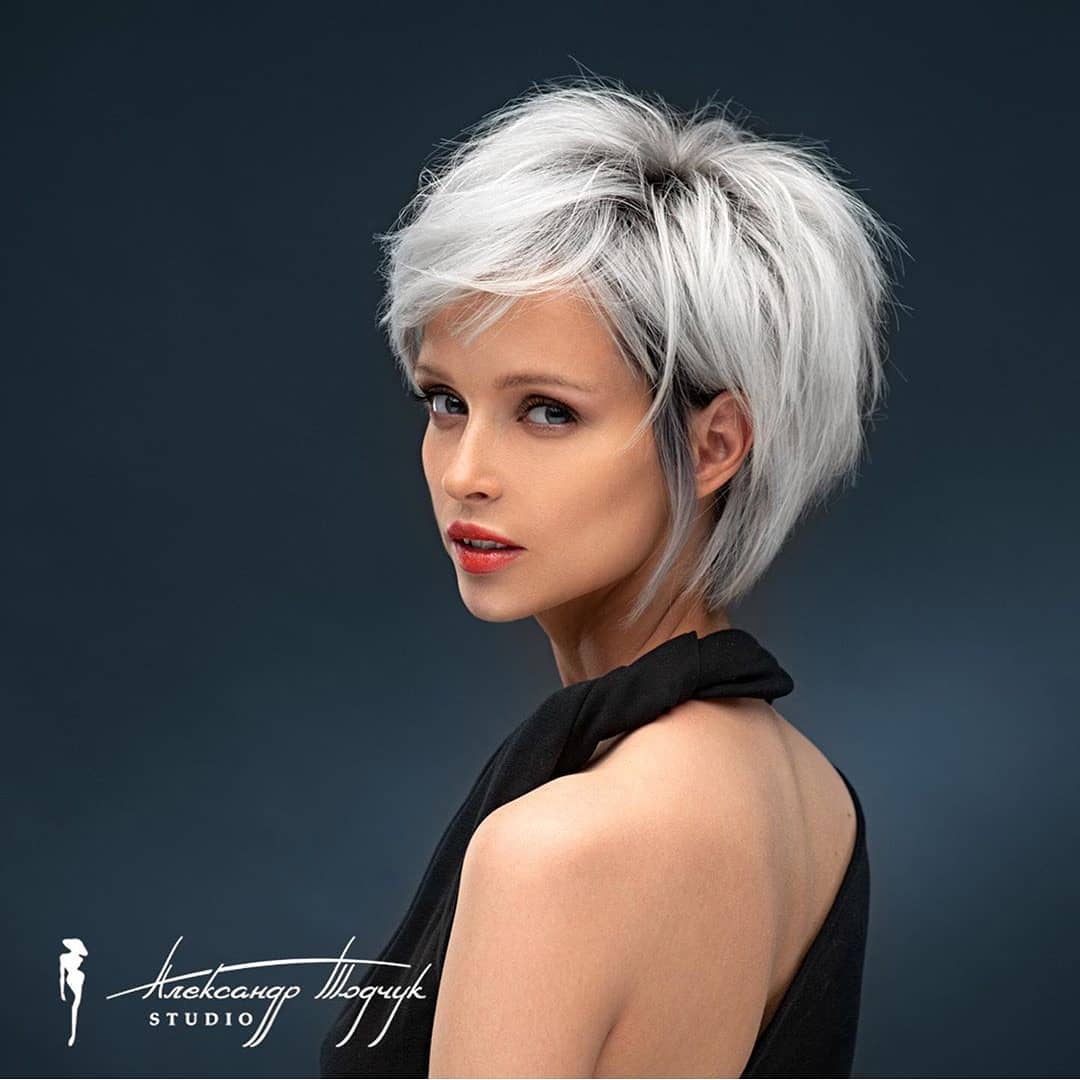 And here's a super, glamorous black and white trendy haircut for making an impression wherever you go! The white-blonde has a high fashion ash tone to it, with dark gray short roots and classy dove-gray balayage. So unlike the 'street version' of white blonde with black roots, this is a softer, more sophisticated style!