Tyon Grant-Foster helps No. 7 Kansas survive scare from North Dakota State in 65-61 win
Kansas junior Tyon Grant-Foster did a lot of memorable things on Saturday to help No. 7 Kansas survive a scare from North Dakota State.
But the one that made him smile the most was a block with 10 seconds left that preserved KU's three-point lead en route to a 65-61 victory at Allen Fieldhouse.
"I love blocking shots," Grant-Foster said on more than one occasion during his postgame meeting with the media.
He did so much more than that on Saturday, though. And KU (4-1) needed every bit of it.
In a season-high 22 minutes, the junior college transfer from Kansas City, Kan., tallied eight points, eight rebounds, two blocks and two steals.
His driving layup with 1:20 to play put Kansas ahead for good and went a long way toward settling the nerves of the 70 or so family members who watched Game 2 from an eerily empty Allen Fieldhouse.
"Tyon was great, great, great down the stretch," KU coach Bill Self said after the victory. "I was very happy for him because he hasn't had many opportunities yet."
Photo Gallery
Kansas v. North Dakota State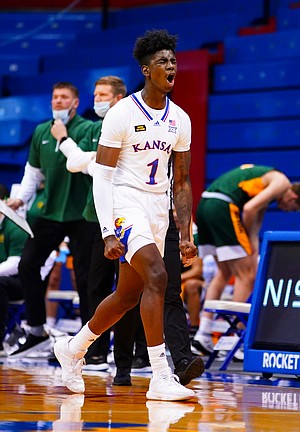 View a gallery of images from Saturday's game between the Jayhawks and Bison at Allen Fieldhouse.
There was a reason Grant-Foster got a chance at extended minutes on Saturday. And it had next to nothing to do with his offense, which featured 3-of-6 shooting and four offensive rebounds, including one for an airball by Bryce Thompson that led to a layup that tied the game at 51.
"He's playing better defense," Self said. "And as he continues to play better defense, he'll play more. And certainly his offense will come because he is a very talented offensive player."
Grant-Foster's late bucket, which came off of a drive from the left wing into a vacant lane, gave the Jayhawks the lead for the final 80 seconds in a game they led for just 7:59 the entire night.
The fact that it was Grant-Foster who took it, after the 6-foot-7 wing had scored just five points total in his first three games of the season, came as little surprise to his teammates.
"I never doubted it," said junior guard Ochai Agbaji, who scored 13 points, giving him double figures in five straight games to open the season. "He's always aggressive. He's always going to take those shots."
Said Self: "That was special."
Grant-Foster said he never hesitated when the ball came to him.
"Coach is always like, 'Be aggressive,' and I was like, 'Why not," he said of the eventual game winner. "In practice I'm always aggressive, too, so I just saw an opening there and I took it."
Asked what might have happened after the bucket inside a jam-packed Allen Fieldhouse, Grant-Foster smiled and said, "I think it would've gone crazy. Everybody would've been up."
The first-year Jayhawk said the chance to play extended minutes for the second game in a row — he played 16 in Tuesday's win over Washburn — helped his confidence. And based on a conversation he had with Self earlier in the week, he knew that he was not going to stay on the floor if he didn't show more than just the ability to score.
One of the better examples of that came just 10 seconds after his late layup. As the teams ran back down the floor, Grant-Foster was up on his man, causing havoc before he could ever even catch the ball.
In an attempt to get some space, NDSU guard Maleeck Harden-Hayes was called for an offensive foul for pushing off of Grant-Foster.
"I knew I was going to get those minutes if I did those things," he said of his scrappy defense and rebounding prowess. "And once it happened, I just knew that he was going to keep rolling with me."
For four consecutive games — all victories — the Jayhawks have played big chunks of five-guard lineups. Grant-Foster's production played a part in that on Saturday. But so, too, did David McCormack picking up his third foul with 17 minutes to play.
That was the first time Self elected to go with the five-guard look on Saturday. And he never went back from there.
"We just made the decision that small was the way to go today," Self said. "You guys saw as well as I did. We probably defend better with five guards out there. At least we did today."
One guard who did not play as many minutes as he had in recent outings was redshirt freshman Dajuan Harris, who was limited to 10 minutes without an assist against the Bison.
Self said the way NDSU (0-4) defended KU's attack and ran its offense by focusing on getting the ball to the paint "neutralized" Harris.
Having their spark plug and big men on the bench paved the way for KU's wings to step up. And they did. Particularly Jalen Wilson, who again played bigger than his listing on the roster suggests, finishing with 14 points and 15 rebounds while guarding 6-10 forward Rocky Kreuser throughout most of the second half.
"I love how he's playing," Self said of Wilson. "He's the most aggressive kid we got offensively. He has no fear."
Wilson's 5-of-15 shooting performance left a little to be desired, but he did just about everything else well. He boxed out and attacked the glass on both ends. He played defense with his feet and head. And even though it didn't always lead directly to a made basket, his assertiveness on the offensive end helped keep KU in attack mode.
That mindset was critical from the jump, as the Bison roared out to an 8-0 lead in the game's opening minutes and never let up from there.
Prior to the very end, every time KU made a run, NDSU found an answer. And every time KU slipped, the Bison were there to make sure they felt the fall.
"We were kind of hit in the mouth and kind of got shocked," Agbaji said of the start. "We had to turn it around there. We knew they were going to be fighting, and it wasn't going to be an easy battle today. It was just one of those games we had to play through."
Agbaji said Self told his crew after the victory that they needed to win games like that.
"Those are the fun ones," Agbaji added.
Self agreed.
"They played great," he said of NDSU. "It was good for us to go against a team that played that well."
KU will return to Allen Fieldhouse for Game 4 in the current eight-day stretch at 4 p.m. Tuesday for a showdown with No. 9 Creighton.
KU officials announced earlier this week that a maximum of 2,500 fans will be allowed to attend Tuesday's game.
This and that…
KU leads the all-time series with NDSU 2-0… The Jayhawks have now won 10 consecutive games inside Allen Fieldhouse and are 4-1 or better for the ninth consecutive season… Saturday's game featured veteran referee Amy Bonner, of Parkville, Mo., as a part of the three-person officiating crew. A couple of longtime members of KU's stat crew said they believed Bonner was the first woman to officiate a men's basketball game inside Allen Fieldhouse… Despite playing mostly small in the second half, KU out-rebounded NDSU 43-32 (16 offensive) and also won the battle of points in the paint, 36-28. KU also netted 10 second-chance points compared to just three for North Dakota State.